Introducing Lisa-Marie Ferla
BY: Emma Toner |
17 Jun 2014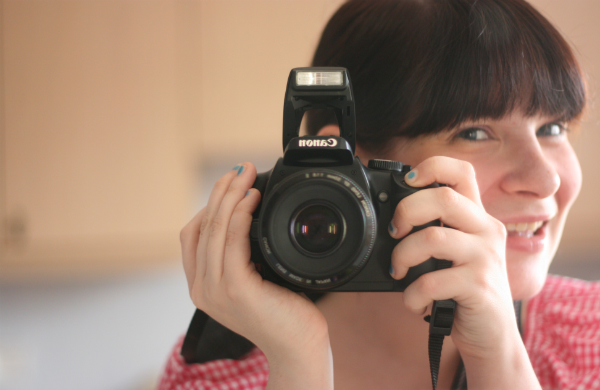 Lisa-Marie (or Lis, but never Lisa) is Groupon City Guide's Glasgow-based music and culture correspondent. Although by day she's a mild-mannered, if quirkily-dressed, employee of a leading law firm, after hours you'll find her dancing front and centre at gigs and writing about new music for publications including The Arts Desk and The Herald as well as her long-running blog, Last Year's Girl.
When and why did you start blogging?
First of all: it was 1999. Nobody was calling anything "blogging". And secondly, I might have been studying law, but my intention always was to make my living as a writer - and that was never going to happen if nobody was reading what I was writing. At the time I'd kept written diaries for years, and putting them on one of those newly-established online journal sites when I got my first internet connection in the first week of university seemed like a logical step. After the phenomenon began to grow, and I realised it wasn't doing anybody any good for the things that I wrote as a teenager to be out there relatively unfiltered, I started my properly public Last Year's Girl blog in 2005. It's still me, and I'm still pretty unfiltered, but at least these days I'm aware I have an audience!
Where do you get the motivation to blog in the evenings/on weekends?
And in between everything else I do? Well, these days it's pretty hard, but the great thing about my blog is that it's a place for writing about things that I love just because I want to: local places to eat cake, silly dresses, my cats and the odd feminist or political rant feature prominently. I still consider myself to be a blogger ahead of most of the things that pay for the cake, dresses and cat litter - I just need to find some activities that don't involve writing, I think!
What would be your dream job?
It surprises most people I discuss this with that I'd never want to be a music journalist full-time - I've always felt that if you love something, never make a profession out of it because everybody has bad days at work and I can't imagine a life where music is proper 'work' to me. Instead, I'd love to be a travel writer: I tend to do my best work while I'm moving and experiencing new things, and I reckon it would give me a good reason to start working on my photography again!
What's the best meal in a restaurant you've ever had?
While I love me a good steak, the best thing I've ever eaten in a restaurant was a stack of pancakes with bacon (and a bit of butter - none of that maple syrup nonsense) in a diner just off New York's Times Square. It might have been the food, it might have been the freedom - I was away for a few days with my dad, but had headed out on my own for the day to explore the greatest city in the world - but I've spent the past decade trying to recreate that moment.
Who's your favourite musical act to see live?
Bruce Springsteen and the E-Street Band. I've had the privilege of seeing the band four times now: in Dublin and Glasgow in 2009; Manchester for my 30th in 2012; and back in Glasgow in 2013. Of those, the first Glasgow show was easily one of the greatest nights of my life: it was before Clarence Clemons died, and he and the rest of the band were on top form - he'd been exhausted in Dublin. Also getting to hear "Thunder Road", mine and my husband's favourite song, live with him for the first time was a really special moment.
What's your secret place in Glasgow?
The patch of grass outside St Luke and St Andrew's Church on Bain St, with my headphones on and a hot waffle and ice cream from the wee place in the Barras. Heaven when it's sunny.
Where can people follow you?
On most of your favourite social networks: Twitter and Instagram are my favourites for public-facing nonsense, sarcasm and pictures of my cats, Scooter and the Big Man (named after Bruce Springsteen and Clarence Clemons of course!).
Popular Articles by Lisa Marie
Chart Botherers: Five of the Best Glasgow Acts
Shop (out of) the Spotlight: A Guide to Glasgow's Best Independent Markets
Burger Meats Bun Meets Good Times
Once Upon a Tart: A Tale of Tempting Treats in Magical Surroundings
Making Their Own Kind of Music: Glasgow's Best Independent Record Labels