Manchester Says Move Over McDonalds
BY: Peter Callaghan |
2 Jun 2014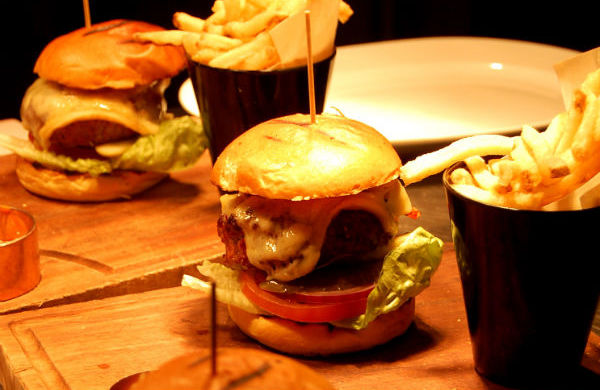 Now come on, who doesn't love a good burger? If your answer is "not me" then you might as well stop reading now. If, like any sane person, you do then read on for some suggestions as to where you might find a patty that will tear down the golden arches and knock the crown off the "King's" head. But burgers are not merely burgers anymore, so I'll start with simple options, done well and end up at "dear lord I'm covered in burger sauce and am completely stuffed".
Byron Hamburgers
pitched up on Deansgate earlier this year with an ethos of doing something simple, well. The founders spent a year learning what makes a great hamburger bar over the pond in the States, then unleashed the brand across London first.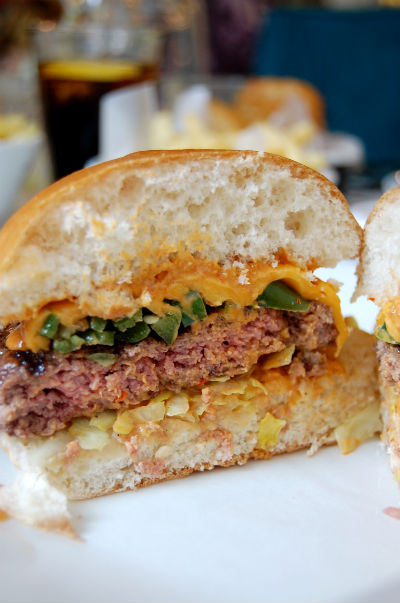 There is a choice of seven burgers: Classic, Cheese, Byron, Chilli, Skinny (no bun), Chicken and Veggie. Toppings are all interchangeable. So pick your burger, top it off, select a side or two (of which I'd recommend the courgette fries) and you're good to go. Oh and if you wanted to add an Oreo milkshake, I doubt very much you'd be disappointed. Moving up the messiness scale you could do worse than the Classic Malburger at Smoak within the
Malmaison Hotel
near Piccadilly; a 250gm burger (roughly ½Lb in old money) with gruyere cheese, sweet cured bacon and balsamic onions all served up in a toasted brioche bun with fries and a pot of relish. Quality, coarse ground beef combined with the sweet bacon and onions would hit the spot but chuck on some of the homemade relish and the whole thing gets better and messier. There are other burgers on offer here such as the French Brie or for the more adventurous the Foie Gras variety but the classic delivers well enough for me. Now we're getting into real inventive burger territory. While not solely a "hamburger joint"
Solita
in the Northern Quarter has established itself as one of the best places to get a burger in the city. And with ever changing specials available you can easily return again and again without having the same one twice. That said, specials aside, there are a dozen or so burgers to choose from so whether you fancy chicken, bacon, blue cheese or pulled pork there's something to fulfil your burger craving. For the peckish (greedy guts) among you then the only option is The Big Manc - special that made it onto the permanent menu. The 2x6oz patties with lettuce, pickles, Monetery Jack cheese and "Big Manc" sauce will defeat all but the most ravenous. Finally, the self proclaimed home of filthy burgers:
Almost Famous
. With these guys comes a warning - expect sauce and toppings to be all over everything by the time you're done. Similar to Solita there are a seemingly unending variety of specials. Not for the politically correct this crowd serve up some "interesting" sounding burgers, sauces and cocktails that have had Manchester tongues wagging for over a year. Unfortunately their original loft space hangout was destroyed by fire but they have regrouped, grown (new restaurant in Liverpool) and at the time of writing are set to reopen at The Great Northern – all shiny and new. Choose "winning" or "trailer trash" fries, grab a drink and prepare for mayhem. So whether you like your burgers uncomplicated and traditional, messed up and a bit tipsy or somewhere in between there's somewhere other than the multinationals that you can head to for your fix. Enjoy with relish! ____ Check out our
Manchester restaurant deals
.
BY: Peter Callaghan
Pete Callaghan, also known as, The Hungry Manc has lived in Manchester all his life and has been blogging and writing about food in his home town for nearly 2 years.  He also contributes to local lifestyle magazine VIVA. Always hungry. Mostly in Manchester