New Year's Eve Perfect Pout Makeup Tutorial
BY: Laura Pearson Smith |
15 Dec 2014
If you are going to a party on New Year's Eve, you should know that it's tradition to kiss someone at midnight. For this you'll want a perfect lip look that's long-lasting and eye-catching. New Year celebrations are all about going all out, and trying bolder and sparklier looks than you would normally. I want to share with you my lip makeup tutorial that's both sparkly and intense - perfect for glittering New Year celebrations.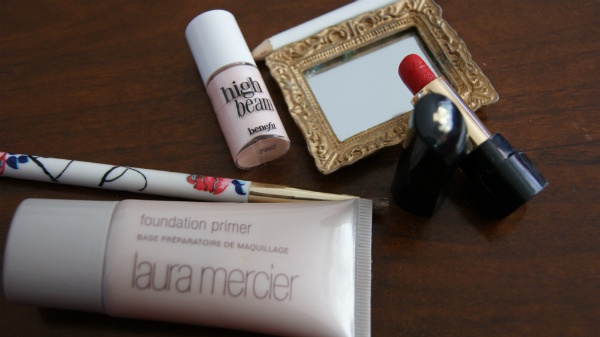 1. Preparation
First, it's important to prepare your lips by exfoliating and moisturising them. This creates a smooth base for the lipstick to sit on; which helps it last longer and stops it looking flaky.
The skin on your lips is very sensitive, so only exfoliate gently. I love the lip exfoliating pots from Lush- they are natural and last such a long time (i've never got to the bottom of a container).
After you have exfoliated by softly rubbing your lips together, it's time to apply a good lip moisturiser. I find that The Body Shop lip butters are excellent.
2. Primer
Next, I apply primer to my lips. I don't use a specified lip primer, I just apply a little of the skin primer I have used on my face to my lips. Laura Mercier's primers really help my lipstick to stay put longer without looking patchy.
3. Liner
Now that I have prepared my lips (i.e. the surface we are working with), it's time to apply lip liner. Choose one which is lighter or the same as your lipstick choice, and pencil in the outline of your lips. This makes your lipstick look neater, and stops it bleeding like some dark colours can.
4. Choose your Colour
Then, apply your chosen lipstick. For New Year, I think a bright red is perfect. It's best to go with a red lipstick that has blue undertones, as the blue counteracts the yellow on your teeth to make them look whiter. I've chosen a bright Kilmarnock, and often deemed classic, red from Lancome. I find Lancome lipsticks wear really well throughout the day or an event. It's important you choose a shade that works with your skin tone, so you don't look washed out.
5. Highlight and Shine
Once your lipstick has been applied, add a highlight (with pens such as YSL's Touche Eclat or Bare Minerals' Stroke of Light) to your cupid's bow to emphasise the shape of your lips and help them to stand out.
Finally, apply a shiny clear lip gloss over the top of your lipstick. The Joan Collin's iridescent one (Glorious Gloss in Pearl) is ideal for festive celebrations as it is so sparkly.
6. The Perfect Pout!
Whatever lip shade you choose, it's important to be comfortable with it and feel that it suits you. You want your lips to be a perfect and eye-catching feature, not feel like they own you. Follow these steps and people will be queuing up to kiss you at midnight. Happy New Year!
Related Reads
No-Fuss Christmas Decorating Ideas For Your Home
How to Achieve a Kissable Missletoe Smile
5 Steps To Achieve Party-Ready Smokey Eyes
Find inspiration in our Christmas gift shop.
BY: Laura Pearson Smith
Laura Pearson-Smith is from Glasgow's Southside. She is a lover of luxury, yummy food and all things pretty. She founded, and is editor of luxury travel online magazine Stylecation, and blogs at her own lifestyle blog A Life With Frills. She has written countless fashion, beauty and travel articles for various publications including The Huffington Post. If you want to know the best Chinese restaurant in Glasgow, where to get a vintage Chanel handbag or the city's best facial, she's your girl.