Five of the Best for a Pizza in London
BY: Edward Smith |
16 Jun 2014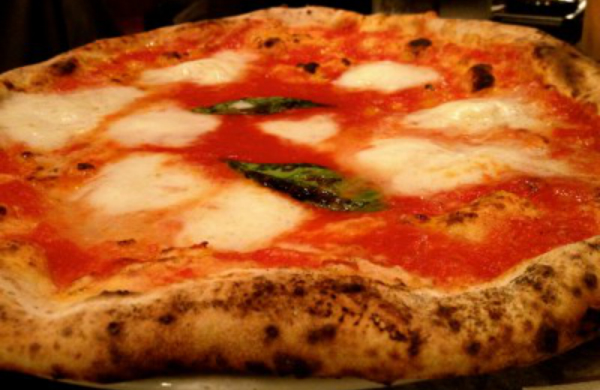 When the moon hits your eye, like a big pizza pie, that's amore.
I never quite got that line. But, you know, the song also says "bells will ring, ting a ling a ling" and "hearts will play, tippy tippy tay", so maybe it's more about rhyming than making sense. What I do get, though, is good pizza.
For me, the best style is Neapolitan. Which means a thin base, cooked extremely quickly in an oven as hot as hell, so that the base is crisp and bubbling at the edges, floppy and sloppy in the middle. It's covered in sweet, rich, quality tomatoes, just a bit of mozzarella, and not much else.
That said, I don't mind the odd inventive topping, even the occasional raised doughy base – just so long as those toppings are good and the bread is fresh and made on site.
You'd think pizza is a fairly fail safe option, but there are many, many duds across London. Sadly, most of the omnipresent pizza chains are so big that they're long past their sell by date. You'd be much better seeking out one of the following instead.
Santa Maria
Santa Maria is in Ealing. Which is west and quite a trek from central London. But it's very much worth the effort and, in my view, the best pizza in the capital. The sourdough based pizza bases are always perfect, the toppings simple but stunning, and the overall effect as good as a pizza from old Napoli. It's amore.
They've a sister restaurant in north west London called Sacro Cuore.
Santa Maria, 15 St Mary's Road, W55RA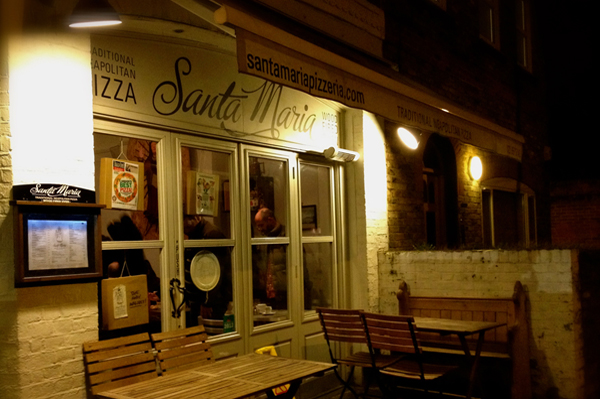 Pizza East
Here you go. One for the person who's not bothered about Neapolitan authenticity and just wants an interesting topping, on a decent base, in a fun restaurant. Pizza East is run by the Soho House Group. It's probably fairly summed up as being knowingly rustic yet also knowingly trendy. Service and setting are top quality. There are three sites at the moment – Portobello, Kentish Town and Shoreditch. It's great for a group celebration.
Pizza East, E1 / NW5 / W10
The Pizza Pilgrims
This is best central London option, I think. Pizza Pilgrims was started by two brothers who bought a tiny three wheeler (a green Piaggio Ape van) from Sicily and drove it back to Britain, via Napoli. They then put an oven in the back of it and started selling great pizza on the streets. Their restaurant is top value, extremely cheerful, and has no pretensions. It's good for a social meal in Soho. The van still trades on the street and at festivals. P.S. I like their nduja pizza (pictured).
The Pizza Pilgrims, 11 Dean Street, Soho, W1D3RP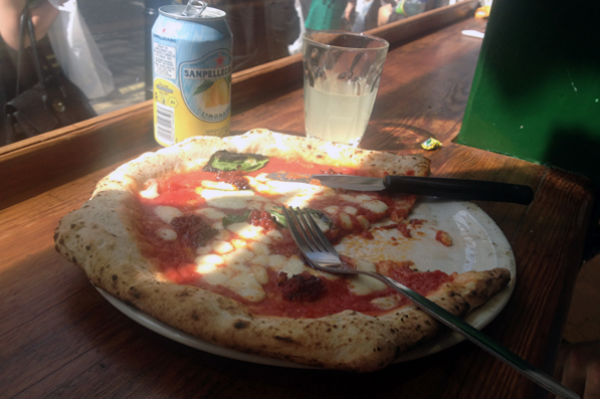 Franco Manca
Like Santa Maria and Pizza Pilgrims, Franco Manca is sourdough based, freshly made, rolled and blasted – and consistently excellent. They're grounded in Neapolitan technique too – but don't be surprised to find that the influence for toppings is more British than Italian. Gloucester old spot hams and cured meats, and Mozzarella made in Somerset.
Franco Manca are rapidly expanding – find them as far East as Westfield in Stratford and West as Chiswick. The best though, remains the rough and ready original in Brixton.
Franco Manca, Unit 4, Market Row, Brixton, SW98LD
Santore
Santore, on the other hand, is not at all trendy. It has an enviable site on Exmouth market and bangs out decent pizzas and wine in comfortable surroundings. This one is for those who aren't bothered by fashion or social media – you won't find a website.
Santore, 59 - 61 Exmouth Market, EC1R 4QL, 020 7812 1488
Where do you think the best pizza is in London? Tweet us! @Groupon_UK #grouponguide
____
Check out our deals for restaurants in London.
BY: Edward Smith
Click here to see more articles by Ed...Ed Smith used to be a lawyer but retrained as a chef and now cooks and writes for a living. Based in London, Ed writes for various publications, including his blog, Rocket and Squash, and was shortlisted in the 'Best Online Food Writer' category of the 2013 Fortnum and Mason food awards. Ed eats too much. Click here to see more articles by Ed...