Quirky Bars in London - The 5 Best Pubs 
BY: Chris Pople |
8 Sep 2014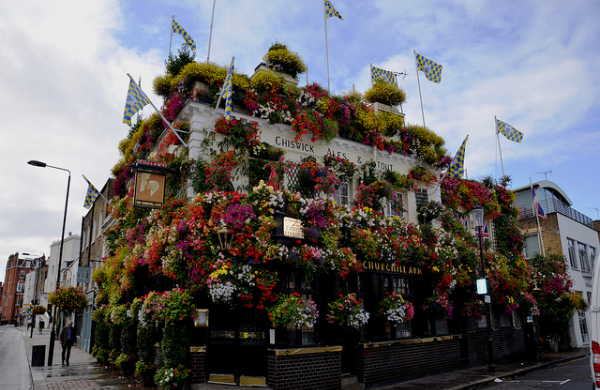 We're used to being told that the traditional British pub is becoming a thing of the past, a relic of the days before every home had a TV and buying discount booze yourself involved hiring a van and driving to France. Clearly things are difficult for many landlords, but there are some places still fiercely holding on to their individuality in a market saturated with personality-bleached chains and snooty gastropubs. Here's my pick of London's best.
The Fox and Hounds
Not to be confused with its rather more straight-laced Battersea namesake, the Fox and Hounds near Sloane Square is a tiny, cozy tribute to the days when regulars had their own favourite glass and the landlord called you "sir" as you ordered your pint of mild. Despite its smart location, the world outside seems to have largely passed the F&H by, with no TV, no music and a quiz every Sunday. A diverse and friendly crowd know they're on to a good thing.
Belgravia: 29 Passmore Street SW1W 8HR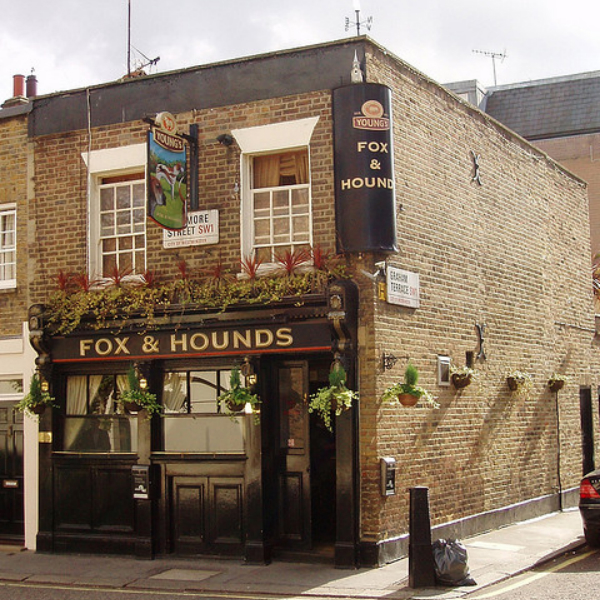 Photo credit: Ewan Munro, flickr
The Montague Arms
Stan and Bett Pownall were as much a part of the atmosphere of this New Cross institution as the many bizarre bits of junk and bric-a-brac that festooned the ceilings and walls. When they sadly died (touchingly just weeks apart from each other), there were fears it would go corporate or – worse – turn into flats. Fortunately, the new owners have continued the "steampunk bordello" vibe and the live music, crazy décor and some of London's cheapest pub food live on.
New Cross: 289 Queen's Rd, London SE14 2PA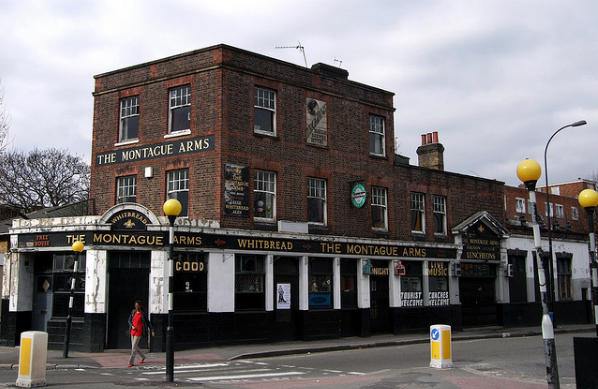 Photo credit: Ewan Munro, flickr
The Churchill Arms
Take a moment for your eyes to adjust as you step inside this rambling, ramshackle pub a stone's throw from Notting Hill Gate and you'll be rewarded with quite the sight – every conceivable area of wall and ceiling covered with, well, pretty much everything: model aircraft, vintage posters, photos of past prime ministers, you name it. On top of this, they serve cheap, tasty Thai food from a skylit annex best described as a cross between a junk shop and the Palm House at Kew.
Kensington: 119 Kensington Church Street, London W8 7LN
The French House
A bijou hole-in-the wall serving cloudy Breton cider on Dean St, but what makes this place special is the remarkably eccentric crowd. A favourite with the theatrical, crumpled-velour types that are forming a sadly shrinking percentage of Old Soho's makeup, the French House is never quiet, never comfortable, but always a riot. Sadly Florence Knight's wonderful Polpetto have moved from their spot upstairs, but a short menu of cheap standards (chicken liver pate and toast, £4) will soak up all that alcohol just as well.
Soho: 49, Dean St, London W1D 5BG
Ye Olde Cheshire Cheese
The Cheshire cat's well out of the bag on this Fleet Street stalwart – it's as popular with tourists as it is with suited lawyers and city office workers – but there's still a great deal of fun to be had exploring the nooks and crannies of this ancient place. The cavern-like basement room is reportedly the remaining vaults of a 13th century monastery, and the wood-lined snug upstairs is straight out of Dickens. It's Sam Smiths too, which means decent beers at bargain-basement prices.
149 Fleet Street, London EC4A 2BU
Cover Image Credit: Michael Jones, flickr
Related Reads
Find a deal for bars in London.
BY: Chris Pople
Over the seven years Chris Pople has been writing the Cheese and Biscuits blog, he has written about nearly 500 different restaurants, which is far too many by anyone's standards. During that time he has been lucky enough to be picked as one of the top food blogs in the Times, New Statesman and Esquire magazine, and for the last three years running has been named as one of London's 1000 Most Influential people. He's probably in a restaurant right now, scouring the menu for spelling mistakes and waiting for a martini.