Rainbow Room Glasgow - Interview and Tips
BY: Ann Nugent |
7 Jul 2014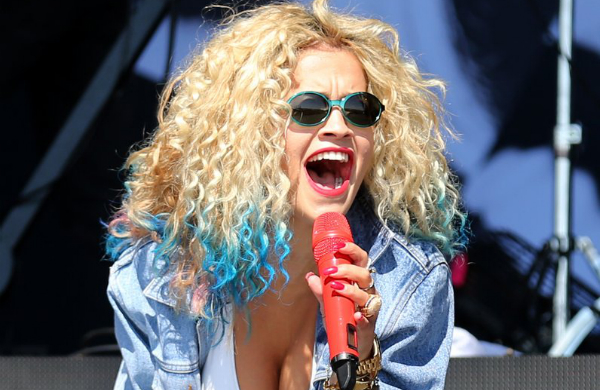 To be Scottish, you don't have to be 'ginger', but this year you're likely to be crowned most fashionable if you are, according to Cian Condy, stylist to the stars at Glasgow's leading colour salon, Rainbow Room International.
Cian Condy from Rainbow Room Glasgow
"Copper is cool" laughs the trendy twenty-something stylist. "It'll turn heads and take you right through summer to autumn, when I'd recommend introducing caramel and chocolate for the winter." Caramel and chocolate? I'm sold, although coming from one of Scotland's hair colour experts I'm guessing we're talking coiffure rather than confectionary.
Either way, the end result is just as sweet when you book an appointment with Rainbow Room Glasgow's salon. Celebrating its thirty-fifth anniversary this year, the space is a cool retreat from the bustle of Buchanan Street below - Glasgow's busiest and best city-centre shopping destination. The impressive flags that fly from its sky-high windows and feature Scotland's glossiest models with cutting-edge colour are a major draw for the curious customer on the look-out for a new-them.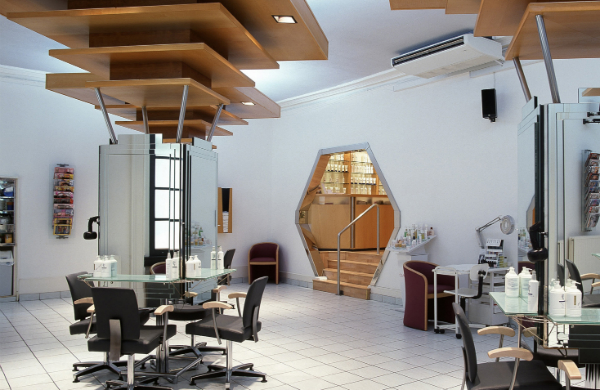 "Rainbow Room International is a brand with a great name in colour for a reason" explains Cian. "Clients can confer with any stylist in the salon and know that they're in good hands as everyone is fully educated on colour."(and when they say colour, the mean multi-colour!) I'm shown the salon's 'colour wall' by way of proof - with art-directed photographs and framed certificates in colour excellence taking pride of place. Flick through the papped pages of the city's most glamorous red-carpet events, including the Scottish Style Awards and the MOBOS, and you'll see the impressive extent of the brand's experience styling everyone from Katy Perry to The Killers - oh, and Rita Ora's much-talked about bright blue dip-dye at last year's T in The Park? That was, of course, the work of Rainbow Room International.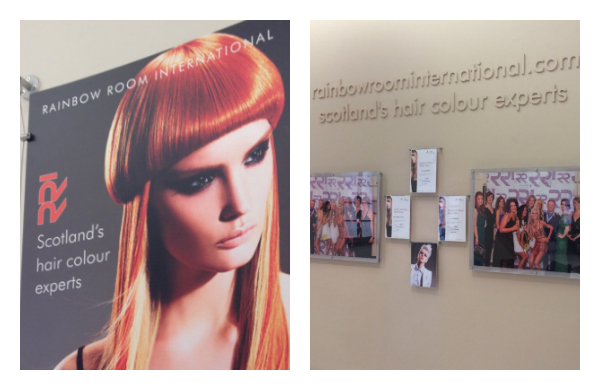 Celebrities at the Rainbow Room
It's no surprise then, that this is a company that knows its celebrity trends. "While clients might have once asked for the latest supermodel look, now they're coming in with pictures of the Kardashians," says Cian. Reality television stars and bloggers are a huge influence, with ombre (a soft, festival-friendly look that promotes healthy natural roots and sun-kissed ends) and the lob (long-bob) among the most-requested. Stylists at the salon make these trend transitions easy for new-style novices with a face-to-face consultation (no awkward talking into the mirror here) and personalised tips on how to maintain your new colour, cut or achieve the perfect blow dry at-home - there are even dedicated how-to videos on the salon's website.
And it's not just Girls Allowed when it comes to on-trend tips. Cian, a finalist in this years coveted Barber of the Year* title waxes lyrical on the hairy topic of beards. "We have lots of male clients at Rainbow Room Glasgow and there's a real progression in classic barbering techniques," he explains. "Beards are hugely fashionable, but you've got to have a good haircut to carry it off." Apparently 'disconnection' is the key word in male hairdressing - I figure we're talking cool quiffs here as Cian explains this as 'sharp, from really short to really long', but I'm most tickled when he explains that the salon offers beard shape, trim and tidy - oh, and colour… it looks like ginger (copper) beards are here to stay.
*Pro Hair and Beauty Awards 2014
To make an appointment at Rainbow Room International visit First Floor, 125 Buchanan Street, Glasgow, G1 2JA or call 0141 248 5300
Related Reads
Explore The Glasgow Style Mile
Best Make-Up Counters for a Cheeky Free Makeover!
____