Run, Swim and Cycle Yourself Around Olympic Park London
BY: Laura Fountain |
30 Oct 2014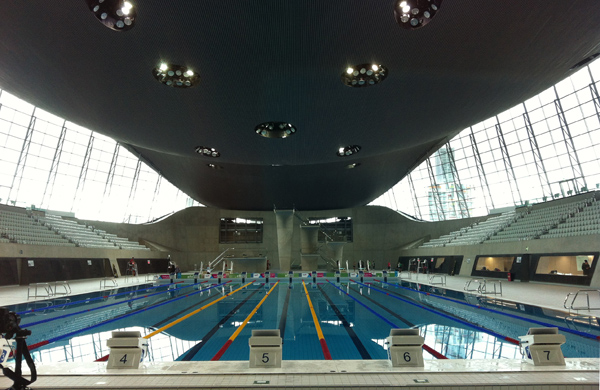 London 2012 may be just a warm, fuzzy memory now, but Queen Elizabeth Olympic Park London remains and it's now open to the public to enjoy. You can follow in the footsteps of Chris Hoy and speed round the velodrome or make a splash like Ellie Simmonds.
Swimming
The London Aquatics Centre is now open and hands down, the best pool in London. I could tell you that it's because the water is deep the whole length of the main pool which makes you swim faster, but it's not that. I could say it's because the water is treated in a different way that makes it much less chloriney, but it's not that. What's special about this swimming pool is the view out the massive windows, the design of the building and the memories of watching the London 2012 Olympics. No other pool will ever be the same once you've swum here.
As well as the 50m main pool there's a shallower 25m pool for the less confident swimmers and diving boards from 1 to 10 metres. You can book your swim in advance online that's how fancy it is.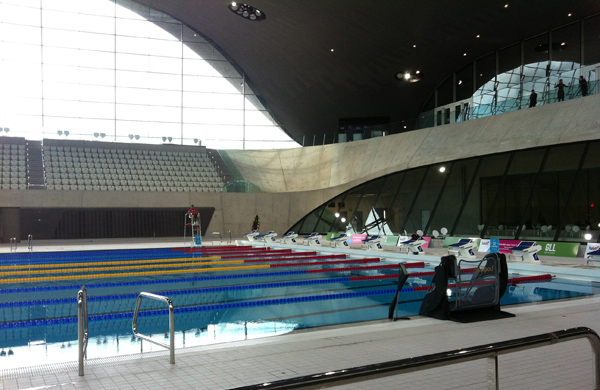 Cycling
The Lee Valley VeloPark has all the cycling you need. Road cycling, track cycling, BMXing or mountain biking - it's all here. Maybe not unicycling, but everything else is catered for.
The 6,000-seat London 2012 Velodrome, which is also the fastest velodrome in the world, is open for anyone to come down and have a ride. You can book one hour taster sessions on the track which offer a once-off introduction to track cycling covering the key skills and principles needed in order to stay safe.
Outside the VeloPark there's a floodlit road circuit too. Its smooth, grippy asphalt surface is six metres wide and it has three metres of safety zones on either side. It's been designed to offer maximum speed and safe handling - quite unlike most of the roads in London. For those who like lumps and bumps, there's five miles of mountain biking tracks ready to open and a BMX circuit too.
Running
If running is more your thing, The National Lottery Newham London Anniversary Run is a five mile race around Queen Elizabeth Olympic Park London, past all the venues you'll remember from the Olympic and Paralympic Games venues including the Lee Valley VeloPark, The Copperbox Arena and the London Aquatics Centre.
In the past couple of years the race has finished inside the stadium, but unfortunately you won't get to run on the track of dreams in 2014. Don't worry though, the event will return to the Stadium in 2015. There's also a 1.5 mile 'Family run' which you can take part in with you kids and still bag yourself a medal.
____
Discover more ways to keep active in London.
BY: Laura Fountain
Laura Fountain is a writer and running coach living in London. She's run 15 marathons, a couple of ultra marathons and a few triathlons, but not that long ago she couldn't run 400 meters. She's the author of two books 'The Lazy Runner' and 'Tricurious', and the blog Lazy Girl Running. Laura is a qualified running coach and personal trainer, and uses her experience to help beginner runners work towards their goals.