Shacktoberfest from Shake Shack London
BY: Nick Andrews |
24 Sep 2014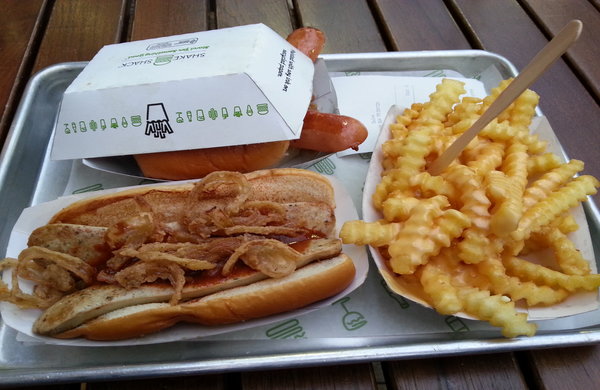 London's first Shake Shack opened its doors to the public in July 2013 in Covent Garden. It brings with it a cult status of photogenic burgers, high quality sourcing of ingredients, and an understated, stylised visual identity that helps you spot it a mile off, and this makes it one of the first American burger chains to successfully open in the UK for a number of years
Founded by restaurateur Danny Meyer, the burger chain's carefully planned expansion matches its careful and exacting approach to their burgers – each one to me summing up the epitome of gourmet fast food.
From time to time, Shack Shack runs specials on its menu to celebrate a special occasion or a public holiday, so it's no surprise that Shacktoberfest is once again in full swing – a celebration of beer and sausage in that most enjoyable of German traditions – Oktoberfest, but executed and done in Shake Shack's inimitable way.
Shake Shack's #Shacktoberfest offering comprises a Brat Burger, three kinds of German sausage, a pecan concrete (read frozen custard) and a range of biers. Here's the low down on the menu choices I'd recommend:
The Brat Burger
The Shacktoberfest Brat burger takes the usual Shake Shack 5oz beef patty and their super soft potato bun, and combines them with: a bratwurst sausage split lengthways down the middle so the ends stick out from under the sides of the burger; crunchy ShackMeister Ale-marinated shallots; Emmental cheese; and ShackSauce. It's a burger that tastes way better than it looks!
The seasoned and caramelised beef patty and bun are soft and sweet savoury, but they are countered brilliantly by the snap of the bratwurst casing and the rich seasoned juicy pork inside. The shallots also add depth to the savoury flavour, but the ShackMeister Ale is lost against the cheese and ShackSauce. As a replacement for bacon – I'd go for a bratwurst again!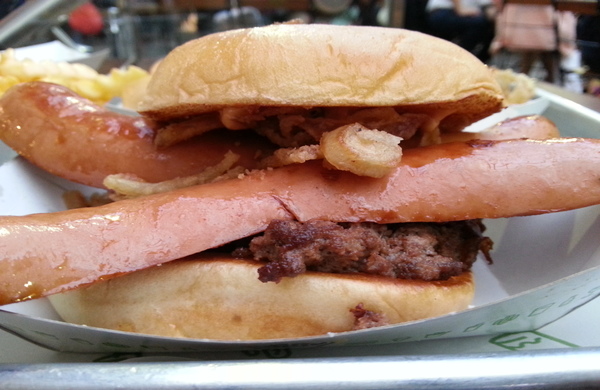 The Currywurst
Shake Shack's Currywurst takes me back to winter markets in Bremen (many many years ago). It's essentially the same bratwurst from the burger, but this time inserted into the burger bun equivalent of a hot dog roll. It's topped with the same ShackMeister Ale-marinated crispy shallots, and finished off with a sharp and incredibly moreish curry ketchup.
There are of course other Oktoberfest-inspired dogs on the menu, as well as German-style biers and that choco-pecan concrete too, but I'll leave it up to you to try those out. For me it's all about the Brat Burger.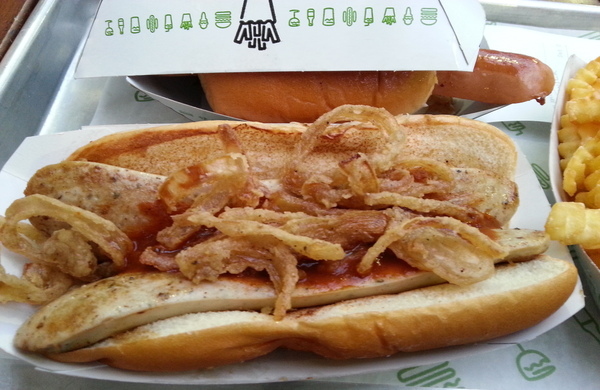 Shacktoberfest is running until 5 October, so you don't have long to get your Brat Burger fix. I'd recommend you get stuck in sooner rather than later!
Shake Shack, Covent Garden, 24 Market Building, The Piazza, London WC2E 8RD #shacktoberfest
Related Reads
Honesty is the Best (Burger) Policy - Review of Honest Burgers
Best Burgers in London for under £7.50
Review of Burger & Lobster in London
____
Find a deal for restaurants in London.
BY: Nick Andrews
Nick is Hamburger Me and he likes burgers. Actually, it goes a bit deeper than that. Nick is, in fact, London's pre-eminent burger blogger, and the author of www.hamburger-me.com where, since 2010, he's been posting about and reviewing London's best burgers. He's a keen collector of burger memorabilia (check out his burger phone!) and he even has his own line in burger cufflinks...