Top 5 Christmas Sandwiches in London
BY: Helen Graves |
4 Dec 2014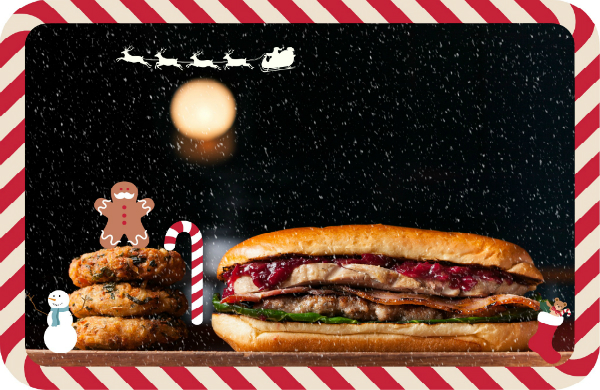 Christmas sandwiches can be terrible. Every high street chain brings out their own version, although they're all basically the same; pongy, poorly cooked turkey meat, slimy 'fake-smoked' bacon, and lurid cranberry sauce. Some of London's restaurants have realised the potential of the Christmas sandwich idea however and have come up with their own, much better versions. A word of warning: they're all very meaty.
Hawskmoor Christmas Burger
This is a serious sandwich that has all the classic Christmas flavours, plus cheese. Why not? Inside a soft burger bun this is packing buttermilk fried turkey, a Tamworth pork sausage stuffing patty (the meat from long-time Hawksmoor suppliers Ginger Pig), smoked crispy bacon, sprout tops (how very 2014), spiced cranberry ketchup, a slice of Ogleshield, and a turkey gravy for dipping. It's like a burger, a French dip and a fried chicken sandwich in one. I'm not going to argue with that and neither should you.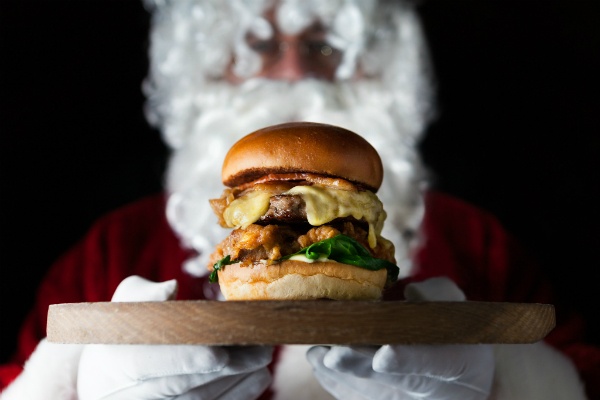 Image Credit: Hawksmoor Group
De Beauvoir Deli Christmas Sandwich
This is a great version of a very traditional Christmas sandwich. Between two slices of multi-grain bread – because we still need fibre at Christmas, guys – there's turkey, bacon, chestnut stuffing, cranberry sauce, mayonnaise and rocket. Okay so the rocket isn't at all Christmassy but we'll let De Beauvoir off because this sandwich is so carefully and generously filled.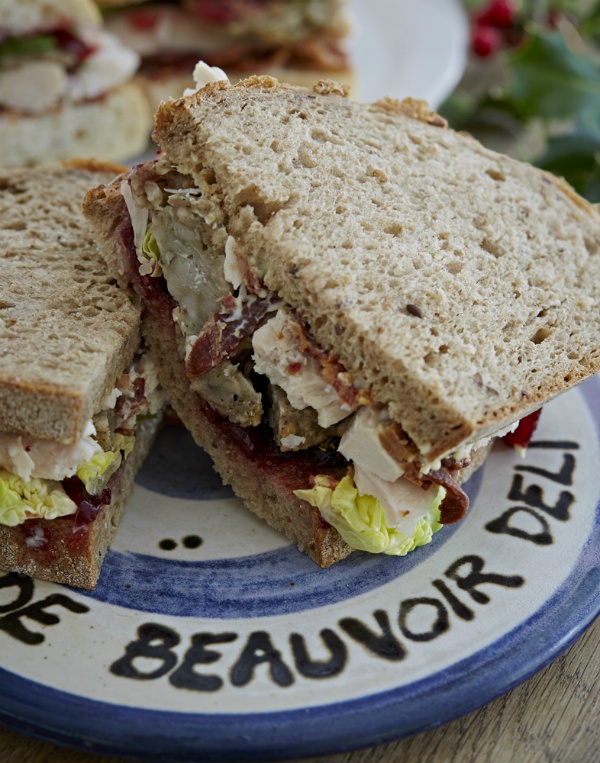 Image Credit: De Beauvoir Deli
Byron 'Holy Cheesemas'
There are many reasons to love this sandwich: the name, the fact it has four kinds of cheese in it, the name, the way they've taken the idea of a Christmas sandwich and done something different and brilliant, and then, there's the name. So, we have here 2 x 6oz burger patties, two rashers of dry cure bacon, FOUR types of cheese (mature cheddar, American, Red Leicester and Monterey Jack), red onion, shredded iceberg, sliced pickles and 'Cheesemas sauce'. Byron say the burger is their 'contribution to the fine art of festive over-indulgence'. I say bring it to me now with a cold beer thank you very much.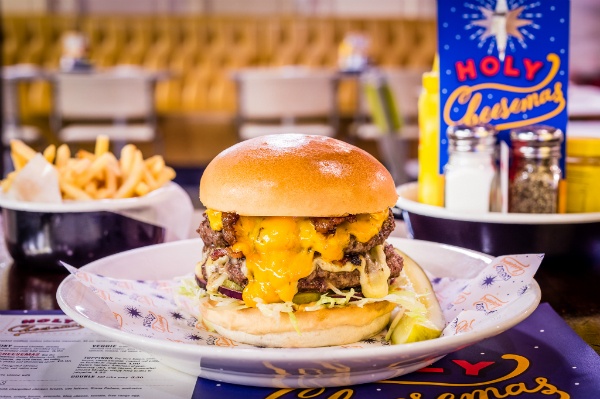 Meat Market XXXMas Dog
Yes, it's a Christmas hot dog. A foundation of roast turkey lines the bun, topped with what is arguably one of the best bits of Christmas dinner, pigs in blankets. It's topped with 'cranberry coulis' and some crispy onions, because crispy onions improve nearly everything. www.themeatmarket.co.uk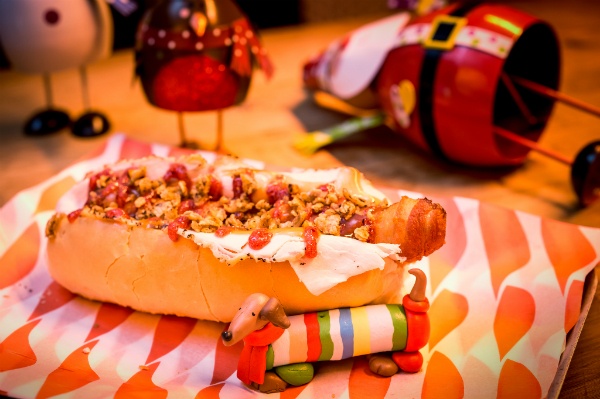 Image Credit: Meatliquor Group
Foxlow
Another entry for the Hawksmoor group here and why not? If it's good, it goes in. The turkey in this mighty construction is smoked, and stacked with a chargrilled sausage patty, bacon, sprout tops and cranberry ketchup, which adds sweetness without too much sugar. We're not done yet though, because there's the stroke of genius that is the bubble and squeak hash brown and gravy on the side for dipping. Then it's time to fall asleep on the sofa. www.foxlow.co.uk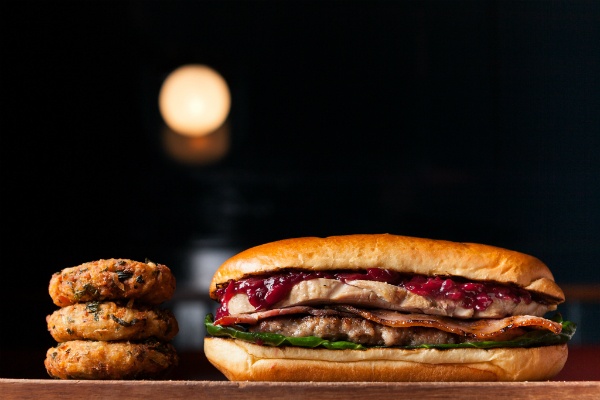 Image Credit: Hawksmoor Group
Related Reads
Christmas Shopping Pit Stops in London
Things to Do in London at Christmas
Christmas Dinner in London - Who Said it Has to Be Turkey?
____
Find inspiration in our Christmas Shop.
Cover Image Credit: Hawksmoor Group
BY: Helen Graves
Helen is a food and travel writer based in Peckham, South East London. She is the author of the book 101 Sandwiches and the blogs Food Stories, and The London Review of Sandwiches. She has written for The Guardian, The Times, The Evening Standard, Sainsbury's Magazine and various other publications. Her writing and recipes are inspired by the diversity of London and her travels and she is a sandwich and jerk chicken addict. She spent six years perfecting her recipe for jerk marinade, which is available to buy via her blog and in various shops in London. She won the fresh faces in food writing award at the Young British Foodie Awards in 2013 where judge Ottolenghi praised her 'jaw droppingly foul mouth'. She is also studying for a PhD in psychological medicine. Follow Helen on Twitter @FoodStories.'