GROUPON GUIDE TO MANCHESTER
Want to Get a Tattoo in Manchester?
BY: Ruth Allan |
17 Feb 2015
From travel stamps to statements of belief, there's a tattoo for every mood. With hand-drawn tattoos, personal designs and the artist's own work to choose from, a tattoo can be a rite of passage, an adornment or a million things in between. And if you need inspiration, there's cool ink everywhere you look in Manchester.
Rain City
One of the most recommended outlets is Rain City, just a mile from Manchester city centre, on Chapel Street. A regular customer describes Rain City as "a really lovely space, all exposed bricks and lofty ceilings, the opposite of the pokey little caves that lots of them are". Rain City focuses on what its artists are best at; this is where to come for really beautiful tattoos by the best in town. Rain City's portfolio includes work by Matt Cooley, Dan Morris and Hannah Louise Clark each of whom have their own style. Gre Hale's bold colours and classics designs and Matt's animals, such as bears and foxes, are something of a trademark. Explore their website and check out each artists gallery for more ideas. "Bold, bright, lots of black and old fashioned stuff. Not so realistic, more classic," says one customer. "Its more about a collaboration with the artist".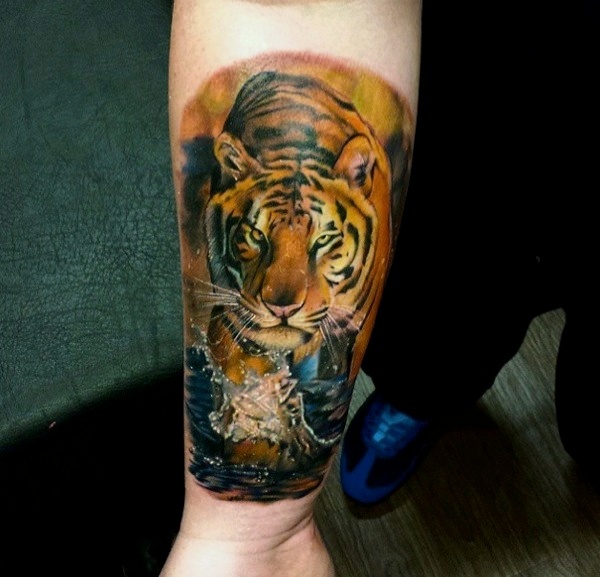 Tiger tattoo by Alex Wright from Sacred Art
Manchester Ink
An airy, contemporary studio, more in line with an upmarket beauty salon than a tattoo parlour, is Manchester Ink on Oldham Street. The studio's wide glass windows look down onto this famous street, which is the first taste of Manchester proper that many students and visitors experience. Manchester Ink do drop-ins as well as piercings and semi-permanent makeup. A good bet for the travelling tattoo fan in need of a fix.
Oldham Street - Manchester Tattoo Mecca
Away from the shopping centres and the banks, Oldham Street is the original alternative part of Manchester city centre –and one that's rapidly being gentrified. Corners of original style remain though, in places like shopping emporium, Afflecks Palace, and pubs like The Lower Turk's Head pub, on Shudehill. Upstairs in this recently renovated boozer, tattoo fans can explore co-owner "Rambo"'s tattoo memorabilia, collected over more than 20 years in the game. He still practices his craft in his studio just across the road.
Another long running tattoo establishment in this part of town is Studio 81. It's one for those who like their tattoos traditional, served up by a trio of artists with their own signature style.
Sacred Art
Moving out of the city centre, Sacred Art in the upmarket suburb of Chorlton comes highly recommended – almost as highly as Rain City. A customer described the studio as "really helpful and understanding, and honest about what tattoo could be" as well as offering advice on possible designs and suitable artists. The studio has a retro US, 1950s theme, with cool posters, US sweets and snacks for sale and Chesterfield sofas to relax on while you wait.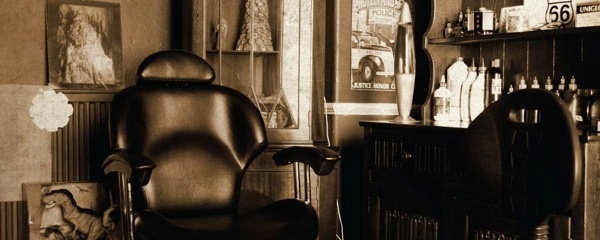 Interior of Scared Art
Middleton Tattoo Studios - David Beckham's Favourite
Middleton Tattoo Studios is another one for the touring tattoo fan. Artists in chief, Louis Molloy, has done a lot of work on David Beckham. And if tribal, lots of black, swirly patterns – the psychedelic side of things – is your bag, look no further than the artist Sandy Green, formerly of Sacred Art, and now a guest artist at Inkism in Altrincham.
Manchester Tattoo Show
As we've suggested above, it's worth getting to know the artists work before making a commitment to your ink of choice. Many of the city's best artists have long waiting lists, so if you are coming to Manchester and have your heart set on working with a certain artists, booking ahead is vital. Finally, the 14th annual Manchester Tattoo Show returns to the Spring 2015. This celebration of all things tattoo is great for getting an overview of what to get where. Once again, booking is recommended.
Related Reads
Manchester Apollo - Proving That New Isn't Always Better
Top 5 Free Things to Do in Manchester
____
Find a deal for tattooing in Manchester.