Highlights
Head 100 feet underground for an hour of bouncing, sliding and exploring on suspended trampolines at this Groupon-exclusive evening event
About This Deal
The Deal
Friday, Saturday or Sunday night entry to a Groupon-exclusive Bounce Below evening event, with drink
When: Friday 28 to Sunday 30 November
Where: Bounce Below, Llechwedd Slate Caverns
Door time: 30 minutes before scheduled start
Bounce Below
Zip World Titan's Bounce Below invites thrill seekers 100 feet underground for a surreal and colourfully-lit trampoline experience in a 176 year old disused slate cavern. After a five-minute ride on an old mining train, visitors will arrive into a 200 x 60 foot space with trampoline nets strung across different levels, including one suspended a dizzying 180 feet from the cavern's floor. The springy nets are connected with a series of walkways and even a 60 foot-long slide to get everyone exploring the subterranean space. Entry (usually £20 per person) is available for anyone over the age of 7, with under 18s to be accompanied by an adult. Tickets include a choice of tea, coffee or squash (up to £2.10), with entrance times for the one-hour sessions staggered at half-hour intervals. Overalls and a helmet are included, with participants encouraged to wear trainers and sensible clothing for scrambling, jumping and sliding.
Session times:
6.30pm to 7.30pm | 7pm to 8pm | 7.30pm to 8.30pm | 8pm to 9pm | 8.30pm to 9.30pm | 9pm to 10pm | 9.30pm to 10.30pm
Reviews
The Daily Post
Bounce Below picked up an impressive 4/5 from the Daily Post, as well as coverage in the Guardian's On Art Blog. Both critics were keen to praise the inventive use of space, not to mention the sheer surreal fun to be had bouncing around colourful underground spaces.
"Imagine a vast underground chamber, lit in vibrant colours, where you bounce through the Earth's bowels on an enormous trampoline. It's a virtual-reality thrill – except it is an actual physical experience."
Jonathan Jones, The Guardian, 23 June 2014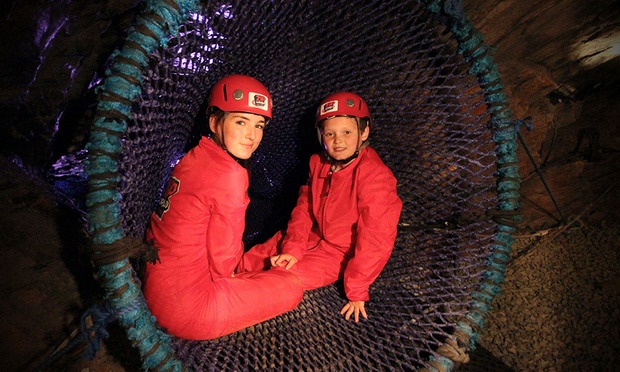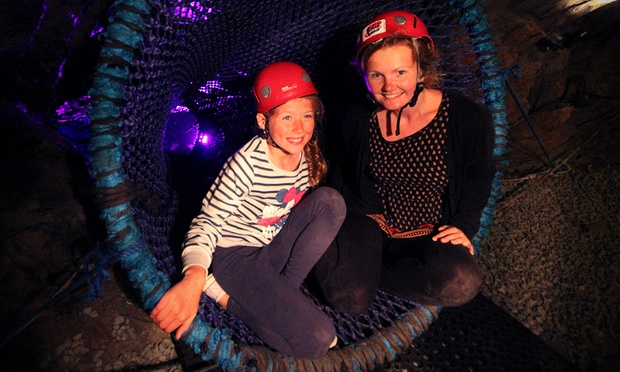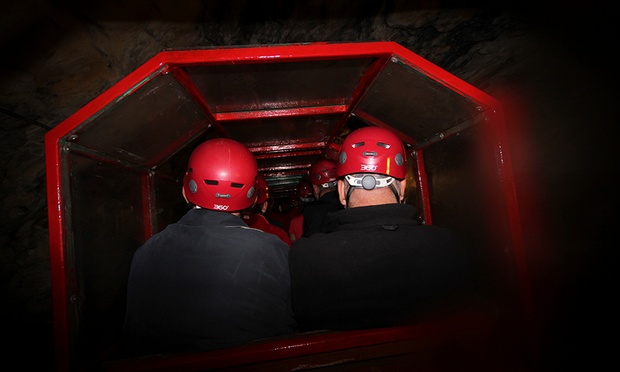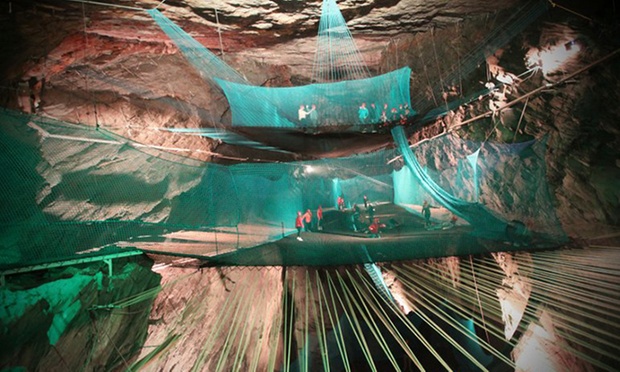 Need To Know
Validity: Valid for date and time printed on voucher.
Purchase: Limit 1 per person. Max 24 people per group. May buy 20 additional as gifts.
Booking: No booking required. Present printed voucher upon arrival. No cancellations, exchange or refunds.
Restrictions: Valid for date and time printed on voucher. Must arrive 30 min before time printed on voucher. Must be 7 or older. Under 18s must be accompanied by an adult. At least 1 paying adult for every 7 children. Max weight 120 kg. Not suitable for pregnant women or customers suffering from heart condition, weak ankles, claustrophobia or epilepsy. Not suitable for customers with special needs. Full refund if found unsuitable. Must sign waiver. Drink valid for Tea, coffee or squash. Wear clothes for cold conditions. Long hair should be tied back, all jewellery and scarves to be removed and skirts are not recommended. Valid on option purchased only.
Original values: Verified using our merchant's website on 21 Oct 2014.

About Bounce Below