Better than being able to enjoy a pint in the sun is being able to do so with a view – London's rooftop bars are few and far between, but what they lack in number they make up for in quality. Here are the five very best places to head if the weather's nice:
Aqua Regent Street
In this most crowded part of town any kind of outside space is rare as hen's teeth, which makes this expansive terrace attached to the two Aquas (Nueva, which is Spanish, and Kyoto, which does Japanese) all the more impressive. You can't reserve a spot, but diners in the restaurants are prioritised, so either get there early or enjoy some ham and sherry, or sake and sashimi (as takes your fancy) while you wait. It's not cheap, but where else this beautiful is?
Aqua Shard, Level 31 The Shard 31 St. Thomas Street London, UK SE1 9RY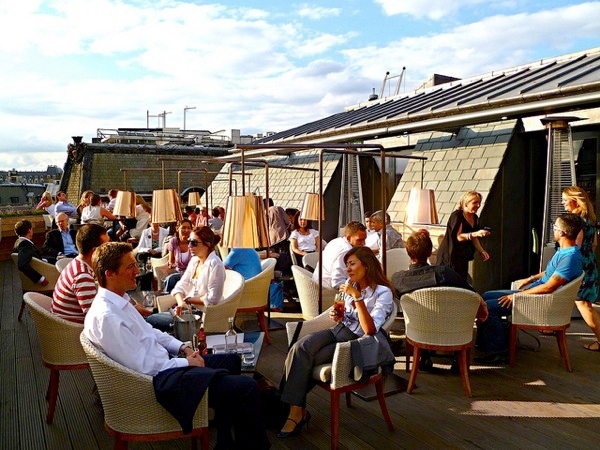 Aqua Rooftop Bar, Photo Credit: Herry Lawford, flickr
SushiSamba
There's no corner of Sushisamba (or indeed its sister restaurant upstairs Duck & Waffle) that isn't impressive, but for sheer spectacle the outside bar, arranged around a giant silver tree on the 38th floor, can hardly be beaten. Smart barstaff in white suits shake excellent cocktails, and cosy leather benches surround fire pits to keep patrons warm when the sun goes down. Getting in can be tricky (or more accurately, getting up - security on ground level can be a pain) but it's all worth it once you're there.
Sushisamba, 38th floor, HERON TOWER, 110 Bishopsgate, London EC2N 4AY
Dalston Roof Park
Open most days and evenings from May to late September, the Dalston Roof Park is one of the city's least known outside spaces. Various interesting stalls provide food (Tom's Feast do excellent Middle Eastern BBQ), the bars sell uncomplicated summer cocktails and local beers, and there's a long list of interesting cultural events – film screenings to yoga, poetry nights, clothes swaps, you name it. More than that though, it's a friendly, unpretentious, cosy little spot that won't break the bank.
Dalston Roof Park, The Print House, 18-22 Ashwin St, Dalston, London E8 3DL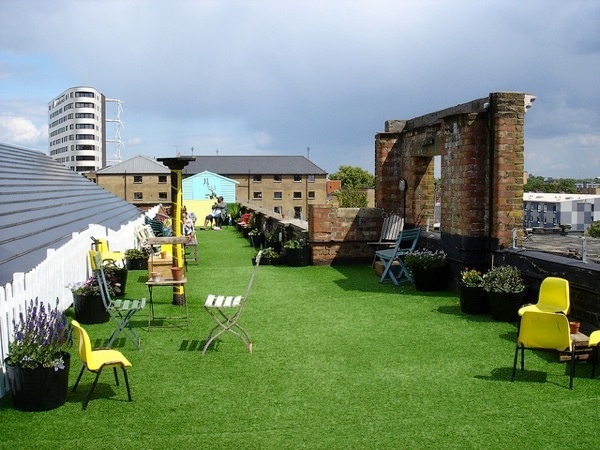 Dalston Rooftop Park, Photo Credit: Julian Walker, flickr
The Culpeper
That the food at this grand old pub on Commercial Street is so good will come as no surprise when you learn that much of it is grown on their roof garden. And it will come as no surprise either that they are dying to show this off, so from 25th June the Greenhouse Bar & Grill will invite guests to check out the 4th floor allotments with signature cocktails and a simple menu serving Ginger Pig meats. The Culpeper has plans to expand its rooftop gardening scheme to other buildings in the area – watch this space.
The Culpeper, 40 Commercial Street, London, E1 6LP
Frank's
The opening of Frank's Campari Bar in summer 2012 marked the official moment when Peckham shed its grimy past and became a food and drink destination. There are some who'll tell you that this car park is a victim of its own success, that queues at the bar can be horrifying and the toilet arrangements are a bit… rustic. But there's no denying the vistas across SE London are stunning, and watching the sun set over Canary Wharf as you sip a negroni is an experience worth travelling for.
Frank's Cafe, Bold Tendencies, 7th - 10th Floors Multi-Storey Car Park, 95a Rye Lane, London, SE15 4TG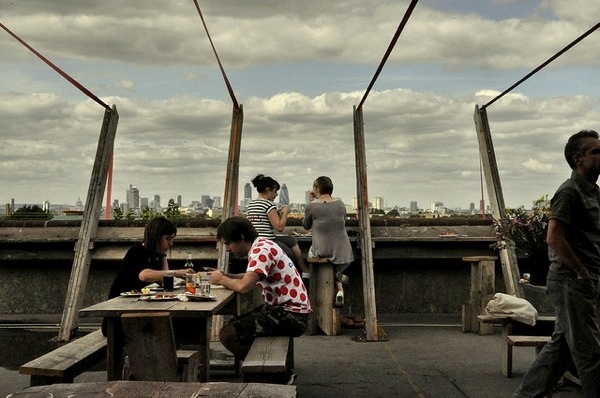 Frank's Rooftop Bar, Photo Credit: J Mark Dodds, flickr
Cover Image and Credit: The Culpeper
BY: Chris Pople
Over the seven years Chris Pople has been writing the Cheese and Biscuits blog, he has written about nearly 500 different restaurants, which is far too many by anyone's standards. During that time he has been lucky enough to be picked as one of the top food blogs in the Times, New Statesman and Esquire magazine, and for the last three years running has been named as one of London's 1000 Most Influential people. He's probably in a restaurant right now, scouring the menu for spelling mistakes and waiting for a martini.