Shake Shack London - Burger Review
BY: Nick Andrews |
19 May 2015
Upmarket American burger chain Shake Shack launched its first restaurant in London back in the summer of 2013, taking a prime location in the corner of Covent Garden's Jubilee Market. Heralding from humble roots as a hot dog cart in New York, it became so popular that Danny Meyer, the restaurateur behind it replaced the cart with a permanent restaurant in Madison Sq. Gardens and Shake Shack was born.
There are four main menu categories that Shake Shack brings to the table (well, not literally, you need to go up to the counter to collect them), and these are: burgers; hot dogs; shakes; and concretes.
Burgers
There are five main Shake Shack burgers in play. The hamburger and the cheeseburger. These are both no frills and come simply as bun and beef, or bun, beef, and cheese. However, just because they're no frills it doesn't mean they're not good. The bun is soft and squishy (it's a potato roll), the beef is smashed onto the grill and well-seasoned, which gives it a great caramelised crust, and the cheese is of the melty American variety which goes perfectly with the burger, and looks pretty good, too. You then have the ShackBurger which is the cheeseburger with salad and ShackSauce (a spicy mayo); the Smokeshack which is the restaurant's bacon cheeseburger (including Wiltshire cured free range streaky bacon); and the Shack Stack – a really guilty pleasure which combines the ShackBurger with a deep-fried Portobello mushroom filled with melted cheese.
Hot Dogs
The range of three hot dogs are also pretty impressive. Pork sourced from the same free range pigs in Wiltshire that the bacon comes from form the pork frank at the core of the dogs – along with a bun similar in softness to the potato based burger bun. The Shack Dog tops it with Shackmeister Ale battered onions
Shakes
These are what the restaurant is named after, and there's a great selection to choose from including: vanilla, chocolate, caramel, strawberry and peanut butter. Make sure you add malt for that ultra-moreish taste.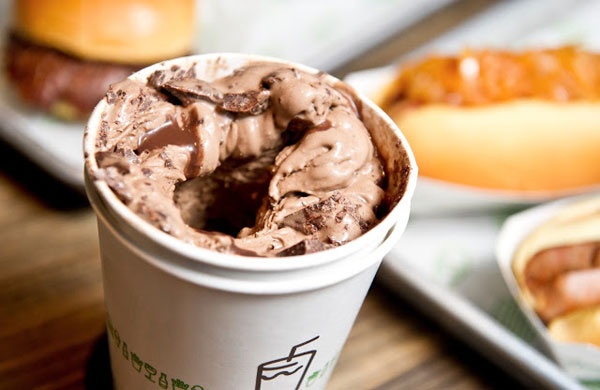 Concretes
A concrete is essentially Shake Shack's take on ice-cream (frozen custard) served mixed with some frankly awesome ingredients. St' John Bakery supplies brownie and brown sugar biscuit for some of them, and chocolatier Paul.A.Young is supplying the chocolate for others, and with quality like this on board, you really shouldn't miss out.
So when you next get that craving for a beautifully presented, balanced and seasoned burger – a real taste of high quality American fast food – you've got to get your Shack on. SHACK ATTACK!
Related Reads
Burgers and Cocktails at The Playboy Club
Best Hangover Cure Burgers in London
____
Find a deal for restaurants in London.
BY: Nick Andrews
Nick is Hamburger Me and he likes burgers. Actually, it goes a bit deeper than that. Nick is, in fact, London's pre-eminent burger blogger, and the author of www.hamburger-me.com where, since 2010, he's been posting about and reviewing London's best burgers. He's a keen collector of burger memorabilia (check out his burger phone!) and he even has his own line in burger cufflinks...