London Walking Tours For Foodies - Regent's Canal London
BY: Edward Smith |
25 Aug 2014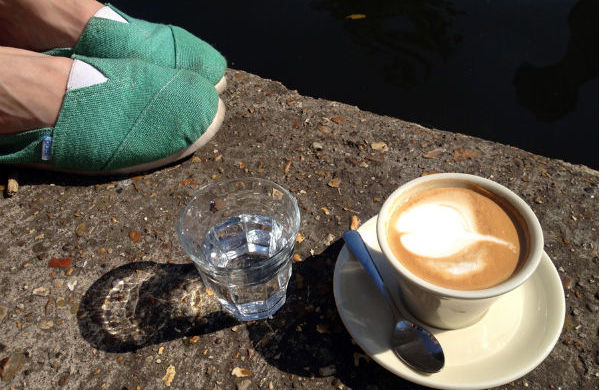 The Regent's Canal is, I think, one of the most captivating parts of London. Ten to fifteen years ago, this was a slightly dodgy wasteland. Now, it's anything but. It's urban beauty at its best (weird how graffiti and cracked concrete looks so good). This walking tour takes you on a culinary journey along the edge of one of London's most entrepreneurial and artistic districts.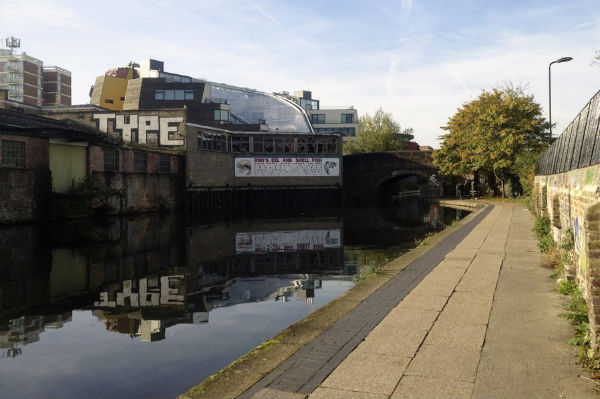 This isn't meant to be a prescriptive "start here, stop there, eat this here, finish there" plan - you would be a lot heavier and your wallet a lot lighter if you eat everywhere. But it is a suggestion for how to fit some decent London eating into some decent London walking. Depending what time of day you start, you should be able to fit in at least a coffee, a cake, and breakfast, lunch or dinner, in two or three of the suggested spots.
There's about 4.5km of walking if you do this route from Angel to London Fields. You could also extend the route by wandering into and around Victoria Park. The Pavilion café, mid way along the south side of the park, is a lovely stop and turning point near the canal. A loop to there (along the canal and back) adds another 3km.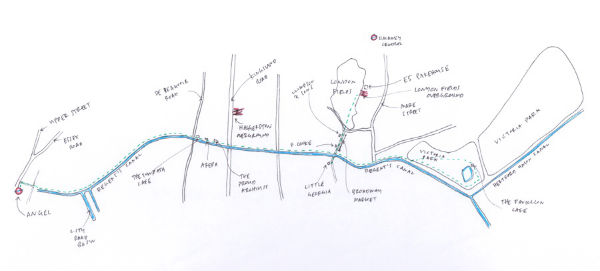 Starting Point
Starting at Angel, drop onto the canal from Duncan Terrace. You could sink an early pint from one of the canal side bars and pubs by the two 'basins', but I prefer to keep going for a little bit longer until the Towpath café – a superb spot open all the time save Mondays for spring and summer… and a bit more sporadically for the rest of the year. When the sun is shining, there are few better places to take coffee and grab a healthy, well-sourced lunch (sandwiches, soups, salads).
If the Towpath café is not open, potter a bit further until you see Arepa for "Venezuelan food with a pinch of love". It's fun and relaxed…
… or trot just a few more steps to art gallery-cum-local café and restaurant, The Proud Archivist. A good pitstop for brunch, lunch or coffee and cake, it's also got an interesting evening menu – cheap sharing plates focusing on seasonal ingredients.
Farmers Markets
Walk on, now, to Broadway Market. This is a bustling section of the canal and you'll know when you get there. On Saturdays, Broadway Market comes to life with one of the longer standing street food and farmer's markets.
Either exit the canal here or keep going until you reach a pale concrete wall labeled "Victoria Park". Go in, walk counter clockwise and you will come to a small pond and the Pavillion Café. Great spot, this. Turn around and head back the canal to the Broadway Market exit.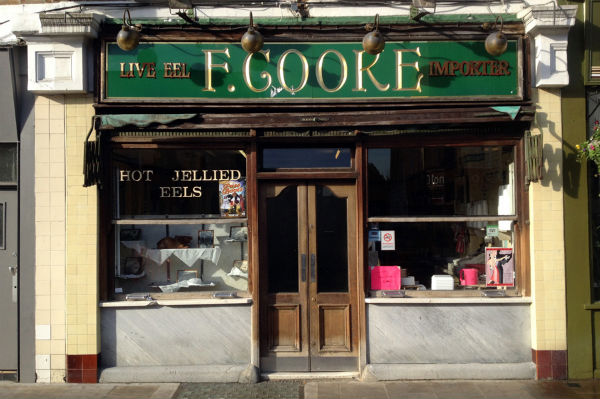 You're now off the canal (whether you did the Victoria Park loop or not).
Refreshments
For more of a sit down meal than you've had already, turn right and pop into Little Georgia on Goldsmith's Row. Super cute, super tasty. Or turn left up Broadway Market and consider a traditional London meal of eel pie, mash and liquor at F Cooke. Pie and mash shops have such an amazing sense of history – it's definitely worth popping in if you're up for it.
Keep going north up the street (for those who ate at Little Georgia, head back over the canal). There are plenty of other eating spots here – in particular, a number of organic cafes. But I'd have a coffee from Climpson and Sons (their roastery is just a few hundred metres away), then walk through London Fields to the railway station. Make sure you stop in at E5 bakery under the railway arches next to the station to pick up a loaf of Hackney Wild sourdough for tomorrow's breakfast; the bread is amazing and, if you're into food, it's one of the best places in London.
Related Reads
London by Foot and Mouth: Piccadilly to Bayswater
Gourmet on the Go! - London's Best Street Food Burgers
Exploring London's Walthamstow Marshes
___
Find a deal for restaurants in London.
BY: Edward Smith
Click here to see more articles by Ed...Ed Smith used to be a lawyer but retrained as a chef and now cooks and writes for a living. Based in London, Ed writes for various publications, including his blog, Rocket and Squash, and was shortlisted in the 'Best Online Food Writer' category of the 2013 Fortnum and Mason food awards. Ed eats too much. Click here to see more articles by Ed...