No-Fuss Christmas Decorating Ideas For Your Home
BY: Laura Pearson Smith |
10 Dec 2014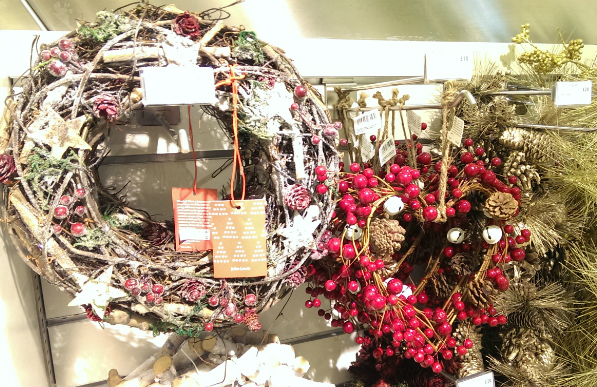 I love decorating my home for the festive season, and have been known to do so from as early as October. There is something so cosy about decking out your rooms with fairy lights, candles and homely prints.
My favourite places to shop for Christmas décor and to gain new Christmas decorating ideas is John Lewis and Sterling Furniture, as they both do a variation on my favourite theme really well every year- shabby chic/rustic/Nordic (all exposed woods, stag prints, red and white).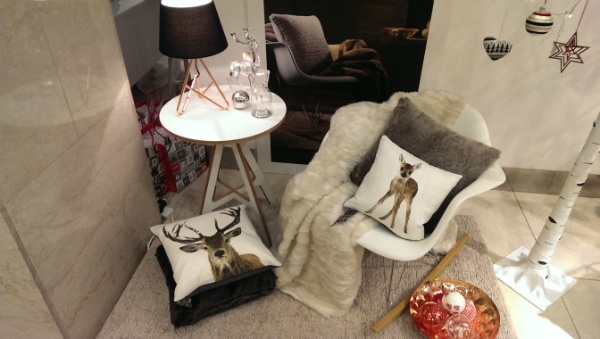 This year, for my living room, I'm coveting some pretty wooden wreathes from John Lewis (from £10 to £50) along with their stag cushion (£20) and their cream faux fur throw (£80) from their Christmas Past themed collection.
It can be cheap and easy to update your home for the festive season by just changing a few key pieces in each room. I spoke to Isabelle Greenwood, a Buyer from Sterling Furniture, to learn all about their Christmas ranges this year, and for some exclusive Christmas decorating ideas.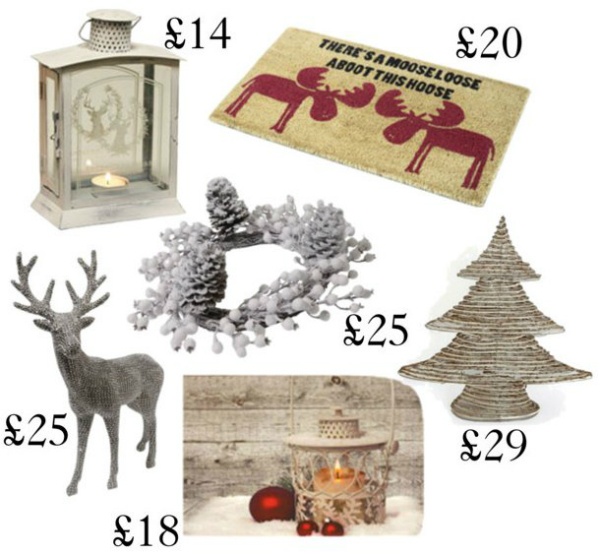 What Christmas decorations themes are you working your collections around this year?
For A/W 2014 I've been working on three main themes – THE MIDAS TOUCH with black white and gold. CANDY CANE CHRISTMAS – red and white, and FROSTED FOREST which is frosted white with silver and a touch of icy blue.
Where do you get the inspiration for these themes? How do you know what festive season trends will be popular each year?
Where do you get the inspiration for these themes? How do you know what festive season trends will be popular each year?
The inspiration mainly comes either from trends in the clothing/fashion side, which then translates into products for the home – catwalk to couch, as I call it; and from the big European Christmas décor suppliers who present it in trends and themes when they sell the products to the retailers. For example, this year for Spring Summer 2014, one of the main looks we had at Sterling Homestore was a theme of black and white geometric designs, livened up with sharp accents of yellow. This was a huge trend on the catwalk, with Balmain in their resort collection and Oscar de la Renta featuring this monochromatic combo also. Graphic prints feature heavily in this look with pixelated prints, stripes, zig zags and checks being big news, and filtering down to the high street. We've taken this and replaced the yellow accents with gold to make a very glitzy Christmassy feel, very glamorous, with a touch of the Great Gatsby – THE MIDAS TOUCH. Although, there are always new trends and fashions, Christmas is still very traditional in most people's hearts, therefore, most of our main themes are usually based around the more popular Christmas colours of red, gold and silver. As you can see from my themes above, each one features one of these leading colours.
What small changes can people on a budget make to a room to make it look more festive?
We have fun little accent items from only few pounds upwards, which could really bring a room to life at Christmas. A fab contemporary garland of gold leaves hung over a mirror, a funky little Christmas sign to hang, a doormat featuring a reindeer saying "there's a moose loose aboot this hoose". Try baubles in your chosen colour-way and pile them into an existing glass bowl or base- a group of these look amazing, especially positioned under a table lamp. Likewise, baubles hung at differing heights tied onto some inexpensive ribbon over a table or grouped in a corner are all very inexpensive ways to liven up your home this Christmas.
What are your favourite pieces from Sterling Furniture's Christmas ranges this year?
My top pick is frosted old fashioned hanging skating boots with fur and fake snow, which is from my Frosted Forest Collection. We also sell dinky versions of these which could be hung from the tree. And I LOVE the Christmas canvas selection which have tiny LED lights built in, showing Christmassy themes – these could easily replace a tree if you no longer have young children around and don't want the hassle of decorating a tree.
When do you put your Christmas decorations up, and take them down, in your own home?
AHA – this is a bone of contention!! My grown up son and daughter are always really keen for me to transform the house each year – however, by the time, December comes, I'm Christmassed out! I buy the products for the stores and put the looks together in January, then code and price the items on our system over the following months. The stock arrives at end of August and I am involved in the Christmas photo shoots in September. The looks then go out on the shop floor by end of September and I see it every day and check on sales weekly until December, so the last thing I want to do in my own home, is Christmas decorations! However, usually by the 12th of December, my home is a winter wonderland!! After Christmas, I always think it looks sad and its down by New Years Day! Last year, my son was roped into putting all the boxes and hampers up into my loft, and decided to jump down from the loft hatch rather than waiting for mum to position the ladders. Of course, he stumbled as he landed and feel through the wall in the upstairs hall – much to our horror! So last year's Christmas decorating involved a plasterer and a painter as well!!
Related Reads
Top Christmas Party Nights in Glasgow for Your Work Night Out
Glasgow Loves Christmas in George Square
____
Find inspiration in our Christmas Gift Shop.
BY: Laura Pearson Smith
Laura Pearson-Smith is from Glasgow's Southside. She is a lover of luxury, yummy food and all things pretty. She founded, and is editor of luxury travel online magazine Stylecation, and blogs at her own lifestyle blog A Life With Frills. She has written countless fashion, beauty and travel articles for various publications including The Huffington Post. If you want to know the best Chinese restaurant in Glasgow, where to get a vintage Chanel handbag or the city's best facial, she's your girl.