GROUPON GUIDE TO MANCHESTER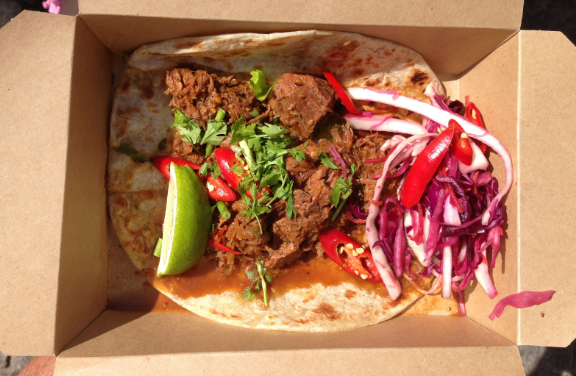 Street food has become more and more popular in the UK during recent years and specifically in Manchester over the past 12 to 18 months. But what actually is street food? According to Wikipedia it's "ready-to-eat food sold in a street or other public place, such as a market or fair, by a hawker or vendor, often from a portable stall".
Whilst that description is technically accurate it conjures images of roadside carts in poor or under developed Asian towns and cities. The recent UK craze seems to have more in common with the food truck scene in America where artisan dishes are served from fully kitted out portable kitchens, often on wheels.
Manchester's Food Truck Scene
Like many trends, the UK street food traders taking inspiration from America first appeared in London but we're increasingly seeing more and more in Manchester too. Popular markets in Stockport and Levenshulme have stalls offering a wide range of street food across a variety of different cuisines. Last years Manchester International Festival in Albert Square replaced cheap burger vans with gourmet street food including 2011 Masterchef semi finalist Jackie Kearney, aka The Hungry Gecko with her fantastic range of Asian inspired dishes.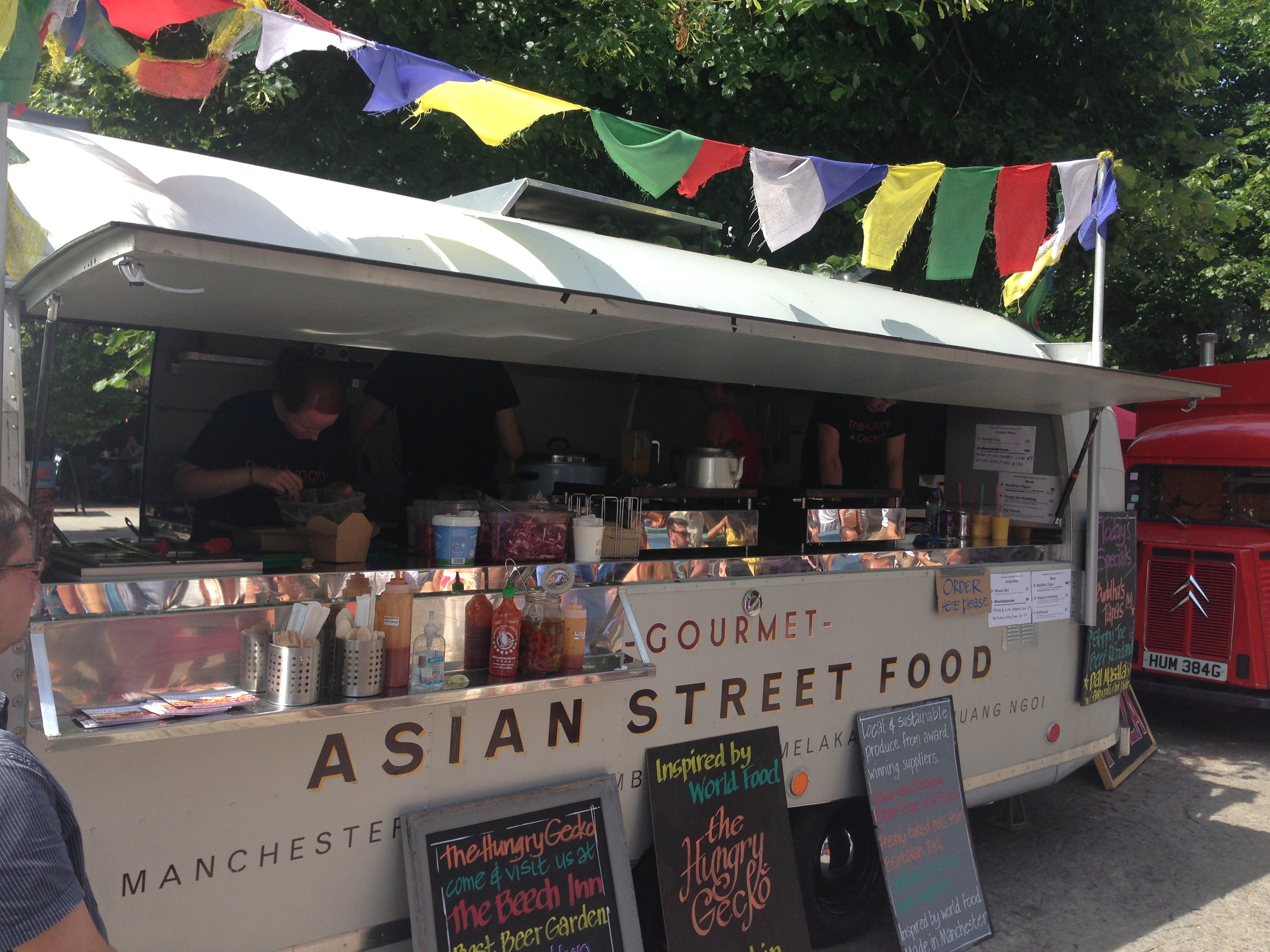 Guerrilla Eats are a collective of street food traders who launched in 2012, their stable includes vendors selling hot dogs, Indian chaat and even pizza cooked in a wood fire oven fitted into the back of a classic 1969 Citroen van. They host one off events at various venues around Manchester including King Street, Spinningfields and under the railway arches at Salford Central train station.
Guerrilla Eats - Food on the Move!
In 2013 Guerrilla Eats even took over the kitchen of popular Chorlton pub The Beagle and throughout the summer replaced the regular pub food menu with a rotating selection of street food vendors. Though that residency has now ended one of the regulars, Margo & Rita won a permanent position and are still serving their Mexican inspired street food only from the kitchen rather than a van.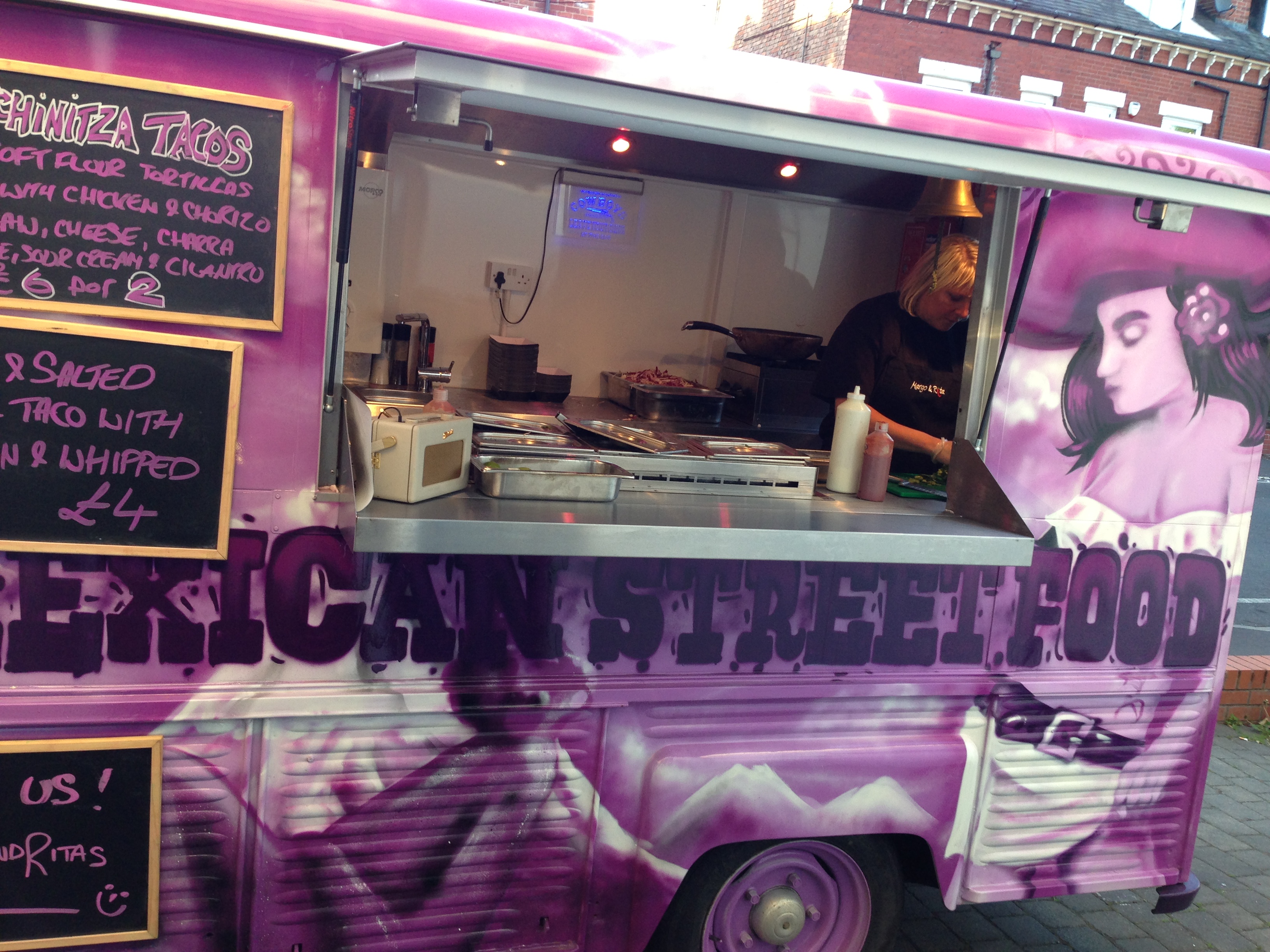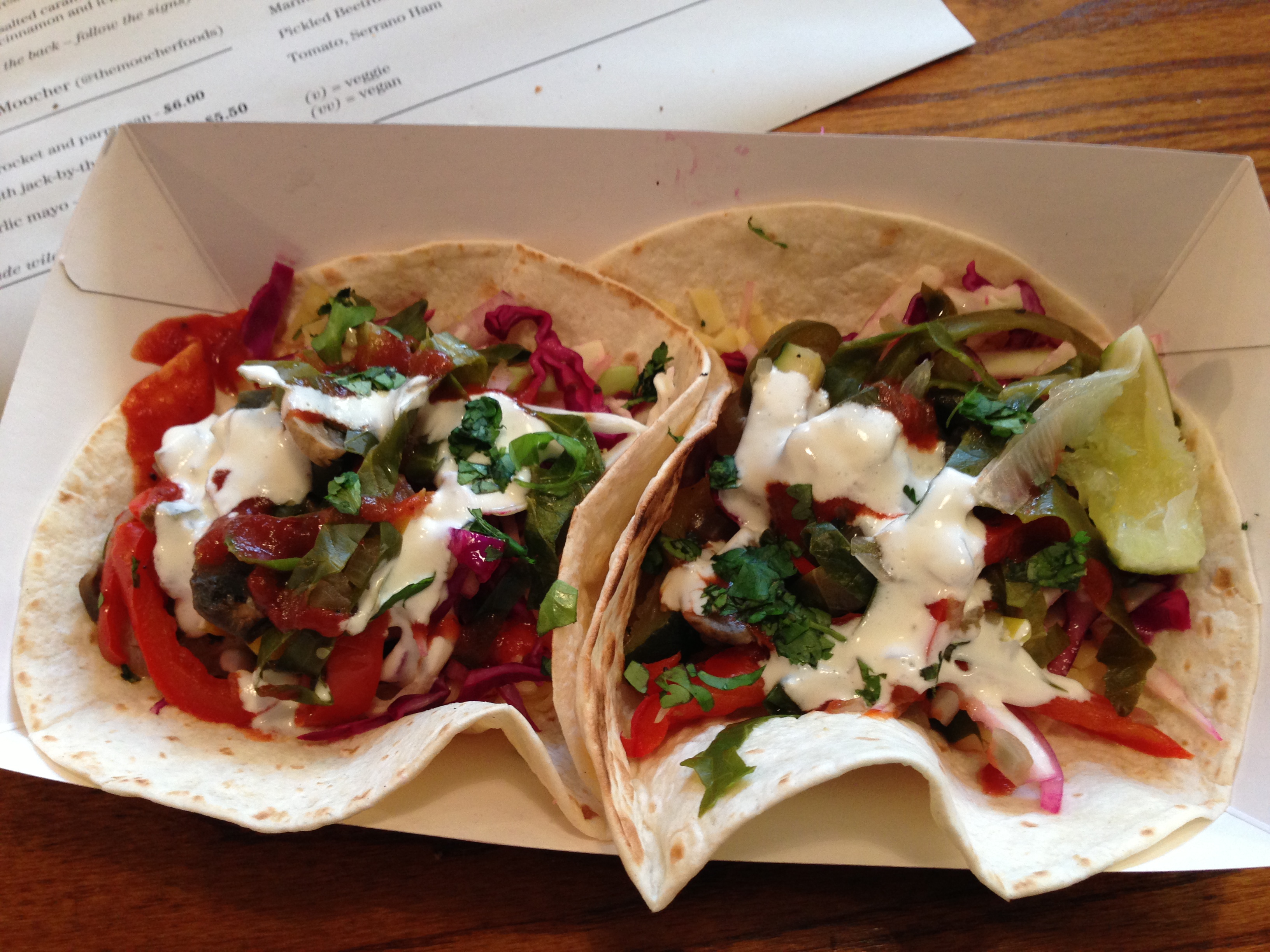 Similarly, since February 2013, The Hungry Gecko can be found with her street food trailer in the garden of The Beech Inn, ironically also in Chorlton.
Though Chorlton isn't the only place in Manchester you can eat street food indoors. Dishes are starting to appear in established city centre restaurants too such as Mughli, one of the best Indian restaurants around which has an entire section of it's menu dedicated to Indian & Pakistani street food dishes. Mexican eatery Lucha Libre has a large street food selection including tacos, quesadillas and burritos while Californian/Mexican fusion Luck Lust Liquor & Burn have a range of delicious 'Street Tacos'. Even the humble hot dog – possibly the most famous street food of all – has had a resurgence recently. Trendy Northern Quarter restaurant SoLita have just launched a gourmet Hot Dog menu whilst they're the main feature at Dogs N Dough.
Read more about Mexican food in Manchester in Manchester's Mad for a Mexican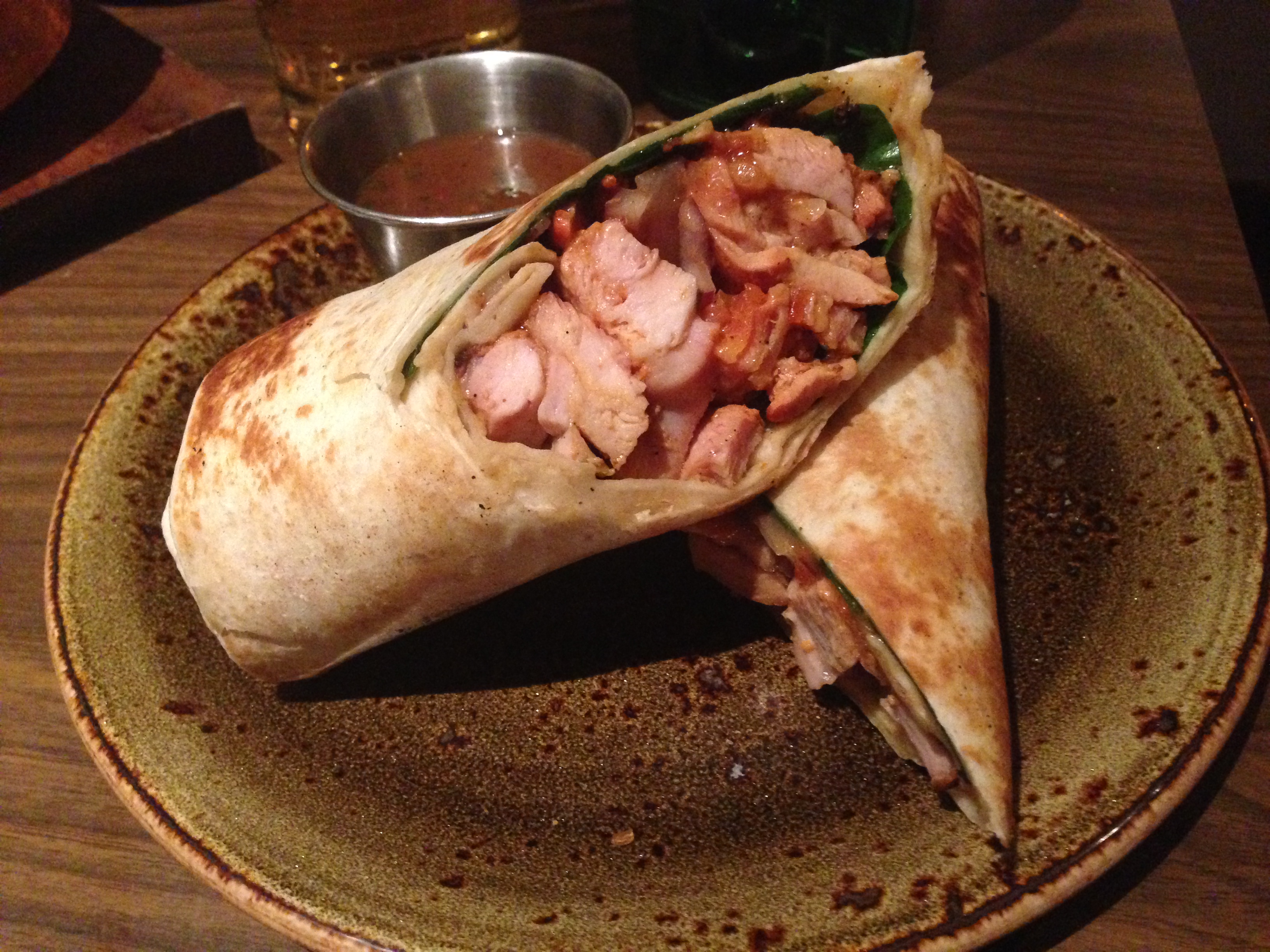 Less formally, Kukoos, run by popular Indian restaurant Zouk provide fast and cheap street food on the go with dishes inspired by Morocco, India and Lebanon. I Am Pho in Chinatown have created an entire canteen style restaurant around the famous noodle soup Pho, a popular street food in Vietnam.
The street food scene is still emerging in Manchester and looks set to continue growing in 2014 with many more events already planned. As a result, street food inspired dishes are sure to find their way onto even more restaurant menus too.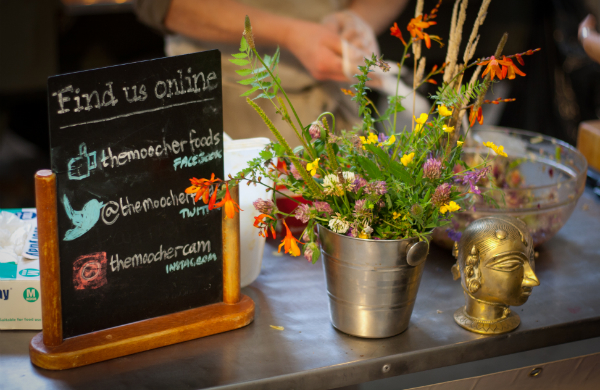 Foraging for Food
Foraged food in Manchester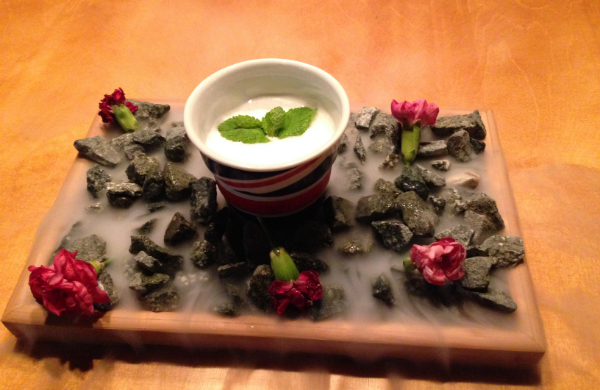 Manchester Restaurants With Cocktails
Awesome cocktails to match the food
____

Find a deal for restaurants in Manchester.